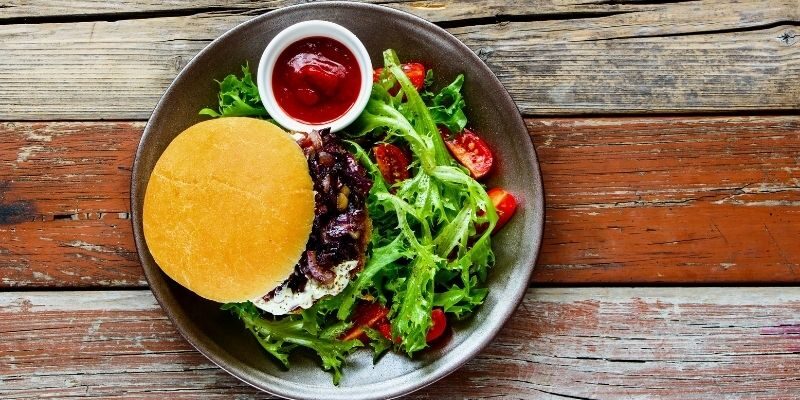 By: Gillian Ronald, Registered Dietitian and Health Coach
Spring is here in Calgary! This may still mean rain (and snow!) but in true Canadian style many of us are quick to get out on our patios and barbecue.
As a Registered Dietitian I have a love of food, and I am always creating new recipes based on what we have on hand in our fridge.
It may seem odd to put fruit in your burger, but trust me, the moisture, tang, and sweetness will have you trying this trick with meatballs and meatloaf too! Balsamic is an unexpected addition that pairs beautifully with the strawberry, apple and basil.
This recipe is loaded with vitamins, antioxidants, protein and flavour. Serve with avocado, lettuce or arugula, and tomato for even more delicious nutrients. At our house we add gouda slices and truffle mayo, drool worthy!
Enjoy!
Strawberry Basil Balsamic Burger Recipe
Ingredients
1 pound tray of lean ground beef or ground turkey
3/4 fresh strawberries chopped small
3 garlic cloves minced
4 TBSP balsamic vinegar or reduction (I like Pia Nona's)
1/2 cup fresh basil leaves chopped small
1/2 apple peeled and chopped small
1/2 tsp each salt and pepper
2 eggs
1/2 cup oats
For serving - thinly sliced avocado, sliced gouda cheese, lettuce, tomato, mustard, truffle mayo
Method
Mix ground meat, eggs, oats, salt and pepper, onion, garlic, balsamic in a bowl
Gently mix in apples, strawberries and basil
Form patties by hand, about the size of your palm
Grill on your BBQ or fry in a frying pan on medium heat (approx 7-9 minutes)
Serve on crusty buns with avocado, lettuce and tomato
Pairs well with a Cesear salad kit!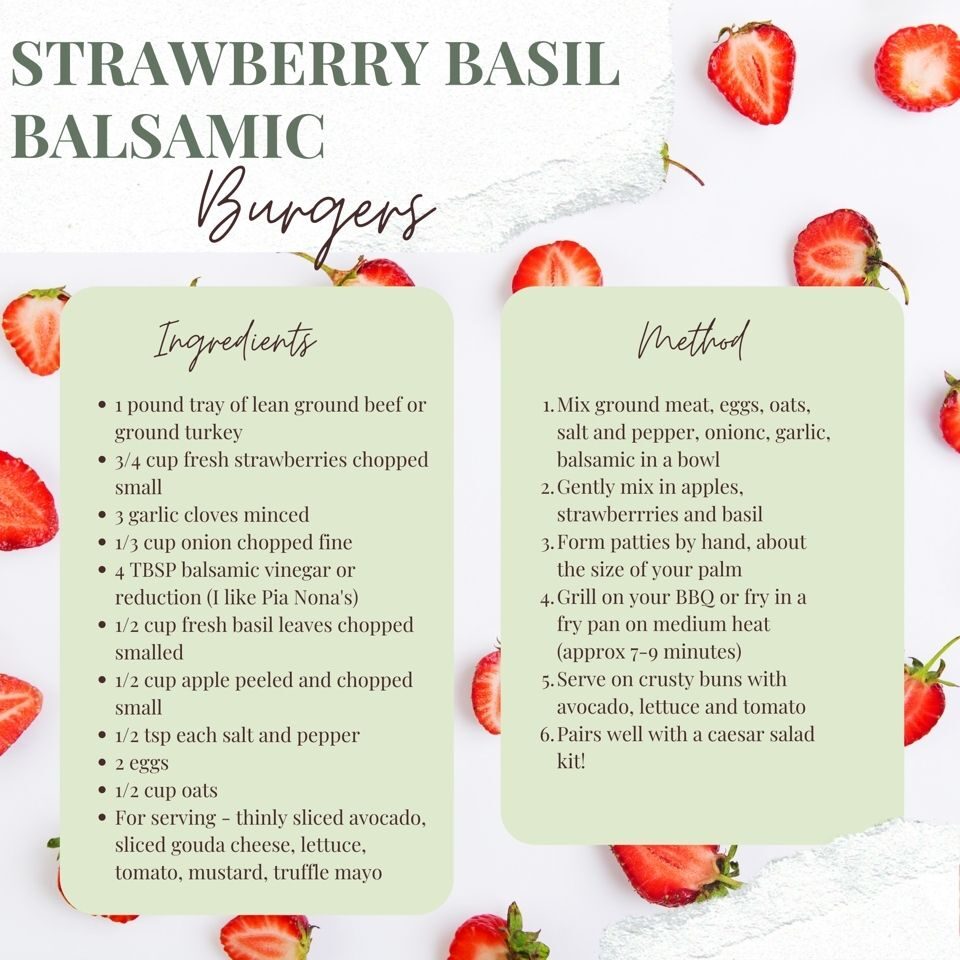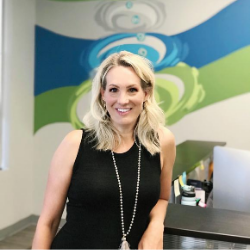 Get more recipes and meal planning support
Learn to increase your energy, maximize your fitness, build a healthier family with customized one-on-one nutrition counselling support from Registered Dietitian and Health Coach Gillian Ronald.