Calgary massage offer for new clients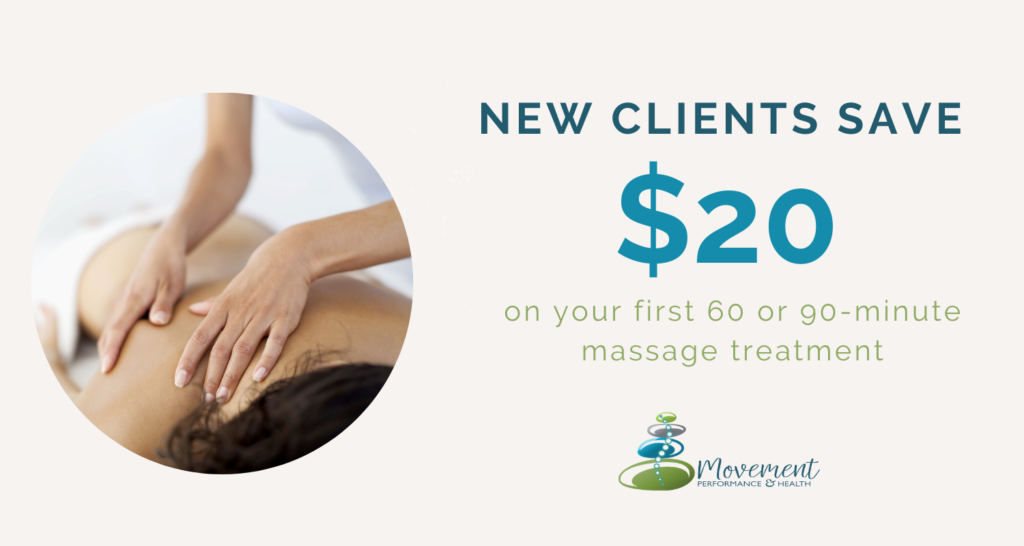 Massage offer for new clients in Calgary
Ready to try a new massage therapy clinic in Calgary? At Movement Performance & Health, you get $20 off your first massage treatment with us. Choose between a 60 or 90-minute massage.
Our team of experience Registered Massage Therapists (RMTs) will provide the massage treatment you are looking for - whether you need deep tissue, relaxation, sports massage or prenatal massage - we've got you covered.
We offer direct billing for most health benefit plans and have free parking at our clinic.
Come see why we're 5-star rated!
Find us in SW Calgary
#20, 2439 54th Avenue SW
Calgary, AB T3E 1M4
T: 403.457.MOVE (6683)
E:
HOURS OF OPERATION
Mon: 7AM - 7PM
Tues: 7AM - 7PM
Wed: 7AM - 8PM
Thurs: 7AM - 7PM
Fri: 7AM - 5PM
Sat: 7AM - 2PM
Sun: 10AM - 3PM
Copyright © 2023 Movement Performance & Health. All rights reserved.