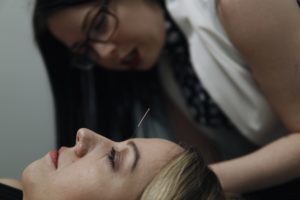 Acupuncture is a therapy involving insertion of a needle in specific areas all over the body. Physiologically, the needles are inserted and trigger a response from the nervous system to communicate with the endocrine system. These two work together and stimulate the body's ability to heal itself and improve its function in preventing future illness within the body. It has been successful in treating various types of illness and dysfunction in the body since before 3000 B.C.
As an Eastern science, acupuncture has been used to treat; musculoskeletal injuries, neurological disorders, circulatory disorders, gastrointestinal disorders, respiratory disorders, immune illnesses, psychological disorders, addictions, and dermatological conditions.
Acupuncture can be complementary to many western treatments. It is especially good at managing pain and therefore is ideal if you've just had surgery, an injury, or a clinical procedure. In the area of women's health, acupuncture can be used to help with labour preparation, labour and delivery pain management, and is complementary following most fertility procedures. Many oncology patients use acupuncture to help with some of the side effects of chemotherapy or radiation, such as nausea and fatigue.
Incorporating acupuncture into your life on a regular basis allows for the body to be more aware of imbalance and maintain a state of overall good health.