Manual Osteopaths work to maintain, improve and restore the normal physiological function of interrelated body structures and systems enhancing the body's natural ability to heal itself.
The whole body is connected and often one small or significant thing that happens to us can create a multitude of restrictions. Sometimes this can be corrected with one type of technique to get relief.
However, other times it can require addressing a few areas of the body, some that may be distant from the site of the symptoms. A Manual Osteopathic Therapist will perform manipulations of joints and/or organs.
With gentle oscillatory movements, this will help correct bio-mechanical dysfunctions that are related to neuro musculoskeletal issues.
Osteopathy can help a variety of common conditions including:
sports injuries (whiplash, tennis elbow)
back, neck, or joint pain
postural problems
headaches​​ and TMJ
digestive issues
insomnia and vertigo
pre & post natal issues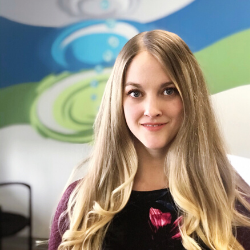 Book with Amanda Felt
Amanda is a Registered Massage Therapist and Manual Osteopathic provider. She employs a variety of techniques including Osteoarticular, Visceral Manipulation, CranioSacral and Advanced Fascia Release.