The temporomandibular joint (TMJ) is the joint that connects your jaw to your skull. There are many small muscles both inside the mouth and on the face/neck that can contribute to TMJ pain and dysfunction.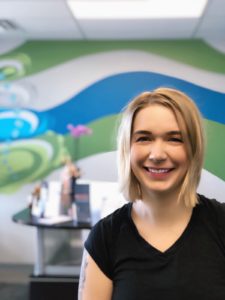 Sarah Joyce is one of our incredible Registered Massage Therapists at Movement Performance & Health.
Sarah has recently completed extra courses and training in TMJ therapy. She works directly with dentists and orthodontists in the Calgary area to help correct TMJ dysfunction.
Sarah has 3,000 hours of education under her belt and specializes in Deep Tissue, Therapeutic and TMJ Massage. Her clients include anyone suffering from general aches and pains; particularly those confined to a desk during the week, but going full gym and adventure on the weekends!
Treat your TMJ pain with our specialist, Sarah Joyce.