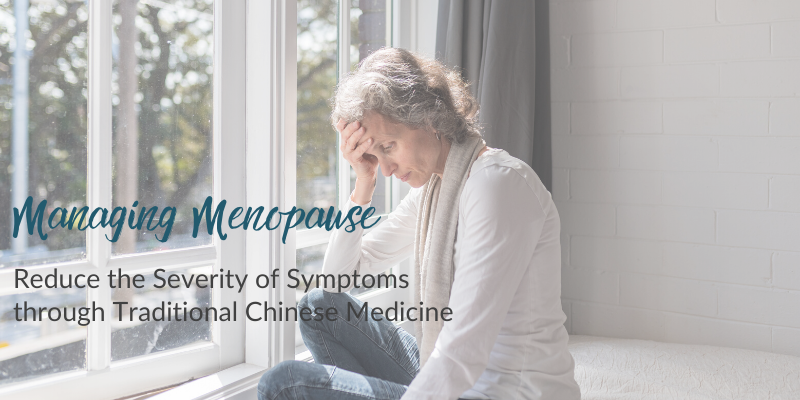 By Dr. Marcelle MacCallum, TCMD, R.Ac.
Menopause is a natural physiological aging phenomenon that occurs when the ovaries stop producing eggs and hormones. A woman is in menopause when she has not had a menstrual cycle for a year.
Between the ages of 45 and 55 most women stop menstruating. The peri-menopausal years leading to the final menstural cycle bring tremendous change to the female body.
Signs and symptoms of Peri-Menopause and Menopause include:
Irregular periods
Night sweats
Hot flashes
Insomnia
Irritability
Mood swings
Fatigue
Difficulty concentrating
Memory loss
Weight gain
Joint pain
Change in skin texture and appearance
Vaginal dryness
Urinary incontinence
Changes in libido
Bone loss

Menopause defined by Traditional Chinese Medicine (TCM)
In TCM, "Jing" is a person's Source Energy and the foundation of living. All living beings experience two main phases in life: one of growth and one of decline. The cycle of life: Growth: birth, puberty, young adult, Decline: mature adult, old adult, death.
The ancient TCM determined that women follow a 7-year Jing cycle:
The first four cycles mean growth, with menstruation starting around age 14 and peaking between 21 to 35.
Jing begins to decline during the fifth cycle at age 35.
At the age of 42, the three Yang channels start to decline causing peri-menopause.
At the age of 49, the Extraordinary Yin channels decline causing menopause.
Peri-Menopause and Menopause in TCM is due to depletion of Jing, an imbalance of Yin and Yang, and an imbalance in the flow of Qi in the body.
In TCM, a body is a balance of Yin and Yang. Yin is the body's fuel, fluid, and nourishment. Yang is the body's Qi energy. Yin is fuel for the Yang fire. Jing transforms into Yin or Yang and their corresponding body elements of blood and energy.
Jing preservation is the primary goal when it comes to menopause and aging. Jing naturally declines, but is depleted even more through overwork, stress, poor diet, and poor lifestyle habits. Women lose even more Jing through menstruation and pregnancy.
Pre-Natal Jing, is a person's "congenital constitution". It is the genetic makeup inherited from our parents. It cannot be altered.
Post-Natal Jing, is a person's "acquired constitution". It can be altered and supported through acupuncture, diet, exercise, and healthy lifestyle habits.
During peri-menopause, the Yang energies start to decline leading to a yang/yin imbalance. During menopause, the Yin energy of the Kidneys decline leading to a yin/yang imbalance. This explains the deficiency heat and dryness symptoms associated with menopause including hot flashes, night sweats and vaginal dryness.

How does TCM treat Menopause?
TCM diagnose peri-menopause and menopause based on a root cause, which is the underlying condition causing the symptoms. This root cause is treated by balancing the excess or deficiency in the body's Yin/Yang and Qi energy.
The correct diagnosis is critical when creating an effective treatment plan. It is possible to fall under one category, but most often patients will have a unique combination of two or more imbalances.
In TCM pathologies related to peri-menopause and menopause present as:
Kidney Yin deficiency with excess Yang rising
Heart Blood deficiency and Kidney Yin deficiency (Ht/Ki imbalance between organs)
Excess phlegm and Qi stagnation (more digestive involvement than hot flashes)
Kidney Yin and Yang deficiency
Blood stagnation

Through the use of acupuncture and other TCM tools, it is possible to reduce the severity of presenting symptoms, to regain balance in the body, and allow for a healthy vitality as you age.
Treatment will involve specific acupuncture points that help the body rectify the Yin/Yang Qi imbalance and support Jing.
TCM and acupuncture will promote a smoother transition as Jing, Yin, and Yang are supported. Once unblocked and flowing smoothly the body's Qi energy is working optimally to maintain health on all levels of being.