Registered Dietitian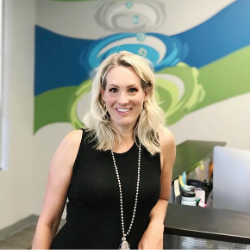 Gillian is a Registered Dietitian and Health Coach with over 15 years of experience empowering people and their families to live a healthier and happier life.
Gillian's philosophy is that nutrition can be used to increase your energy, feel good and live your best life. She believes all foods can fit in your life, but there are some foods that are more nutrient dense and allow our bodies to repair, recharge, grow and thrive.
Through one-on-one nutrition counselling sessions, Gillian empowers her clients to focus on what they value, what brings them happiness and joy – and provides tools and techniques that focus on nutrition, exercise, and self-care so you can enjoy what you love to do and feel amazing.
Her specialties include:
Pre and postnatal nutrition
Pediatric/Infant nutrition
Managing chronic disease
Healthy lifestyle
Weight loss
Improving athletic performance
Living your best and brightest life
Gillian is a straight shooting, ice-cream-loving, mom and professional.
Book with Gillian Ronald, Registered Dietitian and Health Coach
You could benefit from nutrition counselling if you are:
Feeling fatigued, exhausted and are ready to make some changes.
Fighting a chronic illness and need advice regarding how nutrition can help.
Trying to maximize your fitness and build a strong body with custom nutrition plans.
Seeking tips and tools for healthy food habits for your baby or toddler.
Looking to ensure your family is on the right track despite busy schedules and picky eating.
 Gillian will help you focus on foods and eating habits that make you feel amazing and accomplish your goals.
Book with Registered Dietitian and Health Coach Gillian Ronald