Nutritionist Therapist/ Registered Dietitian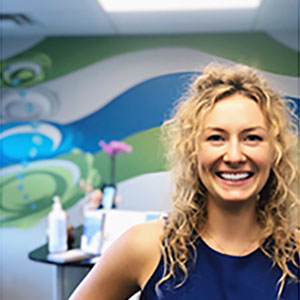 Andrea is a Registered Dietitian, Yoga Teacher, and Nutrition Therapist. Her specialities include:
Digestive health and gut disorders
Sports nutrition
Relationship with food
Autoimmune conditions
Andrea is currently providing nutrition counselling services via video conference.
Learn more about Andrea in her bio >
Contact Andrea
What to Expect
During your initial consultation, Andrea will collect a full history that includes your usual food intake patterns and habits, food relationship, medical/health history, medications and supplements, lifestyle, and in-depth discussion about your concerns and goals.
Next, you'll set attainable goals and then make a plan that best supports managing your condition, symptoms, and/or concerns.
Advice is always tailored to fit you and your specific needs. There are no one-size-fits-all diet plans.
About Andrea
Andrea is a Registered Dietitian, Yoga Teacher, and Nutrition Therapist. Growing up, Andrea was drawn to the field of nutrition as a competitive adolescent athlete who also struggled with her relationship with food and body.
She pursued a Bachelor's of Science degree in Nutrition through Acadia University in Nova Scotia in hopes to find freedom with food and to teach others to do the same.
She went on to become a Registered Dietitian with the College of Dietitians of Alberta.  Throughout her career, Andrea has helped hundreds of people regain their confidence around food, fuel their bodies for work and play, and have fun while doing it. Andrea is a firm believer in a healthy relationship with food and body as a foundation to finding health in all areas of life.
As a Yoga Teacher, Andrea's nutrition philosophy is rooted in mindfulness and joy. She believes that food should be a source of fuel, diverse flavours, and a source of connection and pleasure. Her areas of expertise include digestive health and gut disorders, heart health, sports nutrition, relationship with food, and autoimmune conditions. When Andrea isn't counselling clients or teaching a yoga class she loves to travel, escape to the mountains, try new recipes, practice her handstand and tend to her plant babies.